Receive Payslips Online
You receive a notification via email when salary is paid.
Login into the service and check your payslips.
Payslips are always archived for 10 years.
Payslips can be downloaded in PDF format.
Tax Card Automatically Updated
Palkkaus.fi fetches the current tax card details directly from the application interface (API) of Tax Authority.
Tax card data is checked for every salary payment. No need to update your card manually.
Employee only needs to keep tax card updated on Tax Authority self-service online (OmaVero).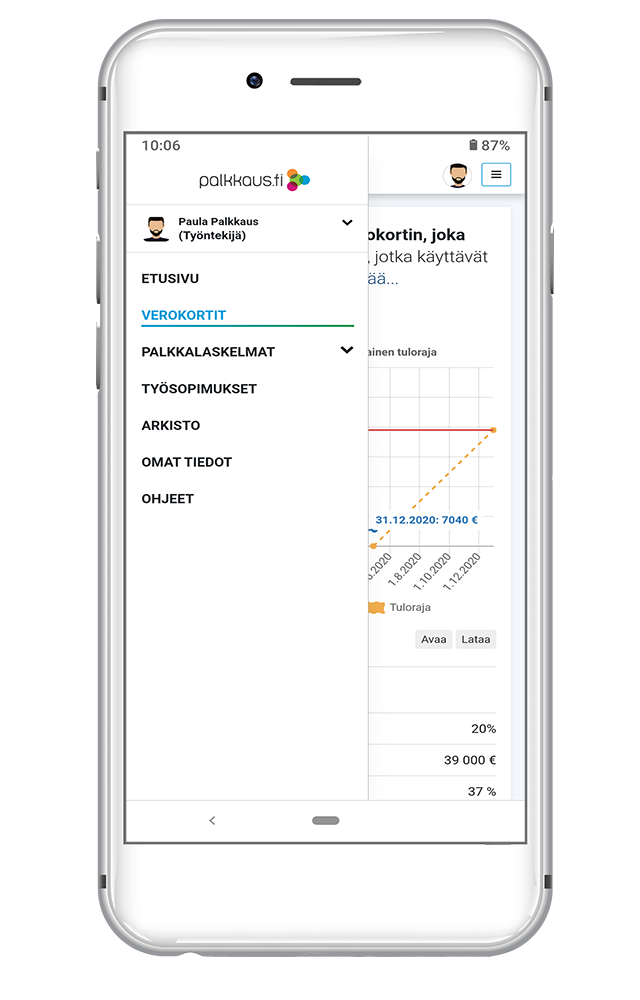 Free to Employees
Employee service is free to use, no fees.
Send Salary Calculations
Calculate salary on the service and send the data to the employer.
You may include costs, daily allowances etc. into calculations.
Easy to all the parties! You know that sidecosts are paid as required and salary payment process is fast and easy for the employer.
Try Salary Calculator
You may test the salary calculator yourself to understand what are the required employer costs and how much net salary you will get.
Salary calculator can be used to calculate salaries or other types of compensation.
Palkkaus ABC
Our Palkkaus ABC is a library of guides and information related to payroll process, employment and salary payment (in Finnish).
Security and Privacy
We identify you with strong electronic identification (e.g. your online bank authentication).
Information security guaranted and we are GDPR compliant.